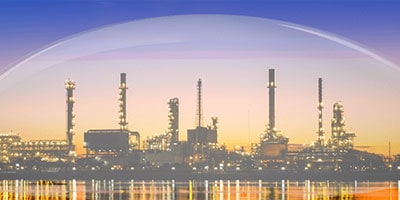 Scott Hurst
Jun 13, 2019
5 mins
Oil & Gas: Protecting Against the Imminent Threat of Drone Attacks
They say a good offense is the best defense. This couldn't be more true when it comes to the energy industry. The Department of Homeland Security (DHS) calls the energy sector one of the most powerful engines of the American economy. It is incumbent upon the energy sector to protect itself from malicious and errant threats, and to accept accountability as a key factor in the stability of the nation's economy.
This industry's importance makes it a very tempting target for bad actors who wish to cause mass destruction, sow chaos and threaten national security. The National Consortium for the Study of Terrorism and Responses to Terrorism (START) has determined that there were 1,480 terrorism incidents against oil and gas facilities worldwide between 2011 and 2016, a 387 percent increase from twenty years ago. These threats are here to stay and will gain sophistication as drone technologies advance, costs decrease, and the ability to weaponize drones improves.
Anatomy of a Threat
Many types of drones are inexpensive, easy to acquire and require little operational training. A moderately sophisticated drone can be purchased for less than an iPhone and can legally be piloted in the US by a 16-year-old. The potential exists that anyone can acquire a drone and outfit it with powerful surveillance cameras, explosives, or even nerve gas.
However, today's threats don't always come in the form of extremists, either domestic or foreign. Many drone operators lack training, do not always follow Federal Aviation Administration (FAA) regulations and choose not to abide by no-fly zone restrictions. While security professionals, the Federal Bureau of Investigation ( FBI) and DHS worry about criminal and terrorist-operated drones, security professionals must also take preemptive action against the "clueless or careless" operator.
According to research company Gartner, roughly three million commercial and consumer drones shipped in 2017; research firm Stratistics MRC estimates a compound annual growth rate (CAGR) of 21% over the next five years. Eventually, the airspace will be impacted by hobbyist drone operators.
Purposeful or not, a drone may enter a secure zone and threaten the safety of personnel and facilities, including refineries, petrochemical facilities, tank farms and pipelines. Small, relatively quiet drones can enter a facility's airspace undetected. By then it may be too late to prevent harm.
Surveillance Vulnerability
Cyber security and surveillance issues are prevalent. The Federal Trade Commission (FTC) has presented security flaws in three off-the-shelf drones, showing that anyone can access and watch the drone's video feed undetected because the data traffic is unencrypted (UT Dallas). A simple WiFi connection makes it easy to hijack consumer drones within the vicinity of a power plant or other infrastructure and use the device to surveil via video for malicious reasons.
Purposeful Attacks and Near-misses
At the end of 2015, federal authorities investigated an incident in Linden, New Jersey in which a small drone crashed into a car outside a Phillips 66 oil refinery. No immediate threat was identified, but officials registered concern because it was in the wake of the Paris terrorist attacks. Refinery owners and operators must consider the intent of a small drone near their facility when little reason exists for it to be flying there.
In July of 2018, Greenpeace launched a drone into the airspace of EDF's nuclear plant in Bugey, near Lyon, France, and then crashed it into the spent fuel cell container. This demonstrative attack served as a reminder of the plant's vulnerability—an intentional drone attack on a power plant, nuclear facility, or fuel processing plant could be catastrophic. If a drone flew into the cooling engine of a nuclear plant, it would likely disable the entire cooling process of the plant, with devastating effects.
"You don't need massive amounts of energy for a nuclear plant to destabilize. The plant has enough energy to destroy itself. Drones can be used to tickle the plant into instability," said John Large of the FBI.
Setting up your Offense to Mitigate the risk
The oil and gas industry can mitigate the risks posed by drones by installing available drone defense technology. The Fortem SkyDome® System monitors a facility's airspace and alerts security professionals of intrustions. The system uses aritificial intelligence (AI) and advanced radar to create a network mesh of coverage that protects the airspace around and above the designated location.
The oil and gas industry, and organizations like AFPM, can lobby for regulations that clearly define acceptable countermeasures. In fact, the federal government requires chemical processing facilities to have a terrorist plan in place and to specifically address airborne and drone threats. With the increasing availability of "dark drones" or RF-silent drones, it is important to ensure that any counter-unmanned aircraft system (C-UAS) be able to detect these RF-silent drones. The SkyDome System can operate in all weather conditions, day or night, and leverages AI and advanced radar to detect these dark drones.
Radar-based solutions can pinpoint the exact location of intruder drones and monitor their trajectory to access the threat potential in real-time. Additionally, hunter drones like Fortem DroneHunter® can be deployed to autonomously engage and safely remove the threatening drone.
Technology Will Drive Security
The Private Sector is driving incredible innovation in technology to provide security for businesses facing drone threats. Cyber security threats, the mass adoption of drones and the lagging federal regulations have created a fertile environment for attacks and accidents.
Senate Homeland Security Committee Chairman Ron Johnson stated, "the federal government does not have the legal authority it needs to protect the American public from these kinds of threats. (and yet) The threats posed by malicious drones are too great to ignore."
Now, more than ever, there is an urgency to understand and mitigate these potential risks. The oil and gas industry must act in identifying the best solution to safeguard its infrastructure and personnel from this new and present danger.