Airspace Complexity
While drones present myriad opportunities for enhancing our lives, securing restricted airspace and airports has become increasingly complex. Despite laws that prohibit drones from being operated in no-fly zones, the FAA reports that drone sightings near airports are increasing.
Recent drone sightings near international airports have caused massive disruption, grounding hundreds of thousands of passengers. These disruptions not only inconvenience travelers, they cost airlines and airports millions of dollars in lost revenue.
Modern Solutions
New radar technology combined with multi-layered defense software and artificial intelligence can detect drones and other small objects that traditional systems miss.
Fortem has developed new technologies to detect these threats and give early warning alerts to security personnel of any imposing threats from all airspace activity, including drones.
Fortem TrueView™ radar combined with the Fortem SkyDome™ software platform can detect all careless or criminal drone activity in airport restricted airspace, providing intelligent awareness (alerting, monitoring and predictive analytics) for real-time decisions. Once an aerial threat has been identified, Fortem DroneHunter™ can be deployed for rapid and complete remediation without causing collateral damage.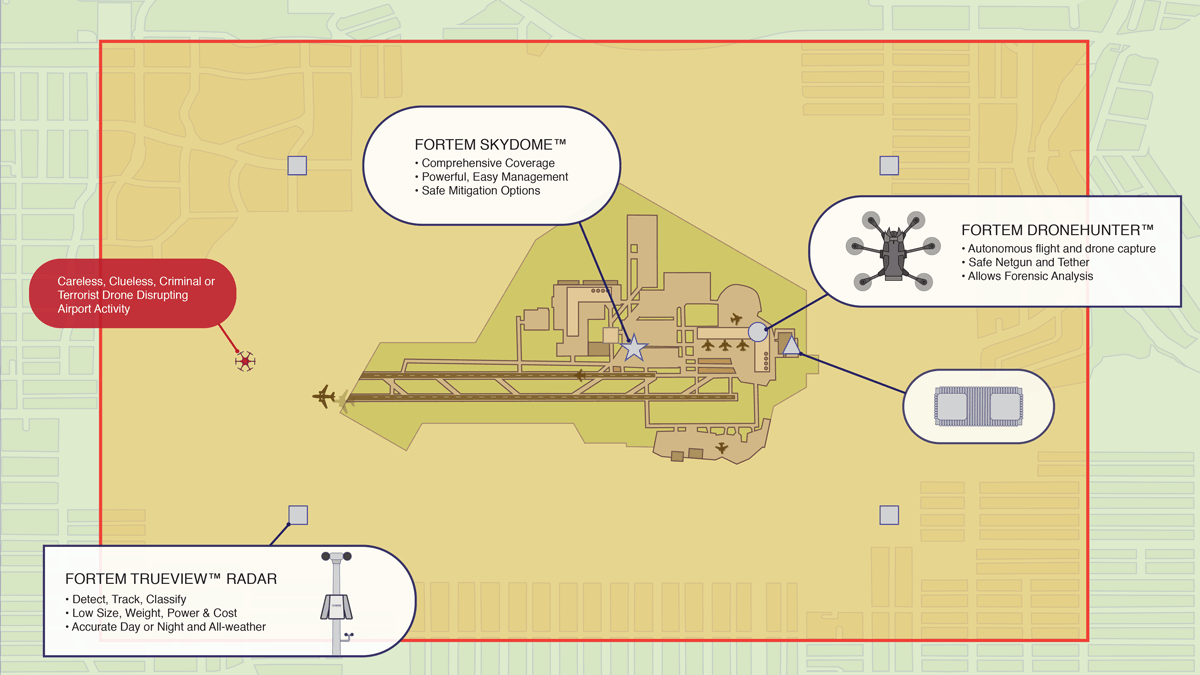 Request More Information
Use this form to open dialogue with us. You'll be contacted by a real specialist, operating in the United States, who can discuss your specific needs at length. Please allow 5-7 business days for the right person to get in touch with you.