Airspace Awareness and Unrivaled C-UAS
"The SkyDome® System is a proven counter-unmanned aircraft system (C-UAS) solution that monitors and protects airspace day or night and in adverse weather conditions. While many C-UAS deployments fail because of components from multiple vendors lacking compatibility and integration, Fortem has pioneered the technology required to build a fully integrated, end-to-end counter-drone solution.
Three core product families comprise the system: TrueView® sensors, SkyDome® Manager software, and DroneHunter® interceptors. Each was designed from the ground up to address dangerous drones. Flexible and portable, the SkyDome® System can be deployed as a permanent installation or as part of a mobile strategy. It can be configured in many ways and scales to protect zones of almost any size."
SkyDome® Protection: Nothing Comes Close
Ask a professional about the Fortem SkyDome System®, and they'll reply with three words: nothing comes close. It's an easy, elegant way to describe the system figuratively and literally. For starters, no other anti-drone system works like ours does. Chaining together world-class drone detection, intuitive airspace management, and cutting-edge drone interception abilities, the SkyDome System® is a truly end-to-end solution for mission success.
In layman's terms, that means no need for cross-sourcing, no tedious jury-rigging, and finally, no gaps in your C-UAS strategy. It all starts with top-notch drone detection radar — the novel technology that put our company on the map. TrueView® radars, which see environments in three dimensions, are networked together to form a "dome" of awareness over the protected zone and surrounding area. Moments after an unfamiliar drone enters the dome, the drone is detected, located, classified, and presented on-screen for personnel.
Harnessing the power of modern AI, SkyDome® Manager command & control software gives operators the insight they need to make smart decisions rapidly, beginning with an automatic threat analysis. Any remaining questions are answered by video streams from long-distance optical and thermal cameras, guided by real-time radar feed.
If the drone is a threat, personnel can launch a DroneHunter® interceptor with the push of a button. Within seconds, and with no manual input required, the unit closest to the intruder launches from its hangar and races toward the target. In the meantime, farther units are also deployed, ready to act as backup.
The intercepting DroneHunter® reaches the target with distance to spare, long before it can breach sensitive airspace. Now, it's game over for the intruder, because very few drones will escape this confrontation. Armed with multiple NetGuns™ and the revolutionary DrogueNet™, the DroneHunter® F700 can capture rotary and fixed-wing craft, including group-1, group-2, and group-3 threats like the Russian Orlan-10 and Iranian Shahed-136 drones.
Large drones are forced into a slow and safe descent, leaving time to evacuate the area below. Small drones are towed to a location you select. Either way, once the drone is caught, it's not going to cause you trouble again. End of story.
Like we said, nothing comes close. That's how the SkyDome System® works and that's what the SkyDome System® does. It's the perfect way to explain both the process and the result.
Layered Detection with the TrueView® Family
An informed defense is a strong defense. Vigilance, perception, and foresight mean everything in counter-UAS, and these are the biggest factors that make the SkyDome System® your #1 choice.
Our TrueView® drone radar technology — specialized for drone detection and widely known for accurate, prolific 3D coverage — is the system's foundation. With the flagship R30 or the super-compact R20 radar, an airspace protected by the SkyDome System® can detect drones quickly, dependably, and at long range, without failure or false alarms.*
Secondary TrueView® sensors add extra layers of detection to enhance awareness even further. Featuring real-time sensor correlation, the C30 EO/IR camera system uses live radar data to provide clear visuals*, giving personnel a total understanding of the enemy.
*Probability of false alarms is low, but not zero. Visual clarity varies by circumstance.
Powerful AI Software
SkyDome® Manager is purpose-built C-UAS command & control software that directly empowers security personnel with 3D airspace awareness, delivering detection, tracking, and mitigation of drone threats.
The software functions as an end-to-end sensor correlation platform integrating radar, long-range cameras, RF sensors, and drone mitigation systems. It can also be configured to add Fortem's industry-leading products to third-party C2 systems — such as FAAD C2 — through its rich API.
High-performance embedded computing hardware, available with the Edge Fusion System, accelerates the most advanced features present in SkyDome® Manager, such as ThreatAware™ AI-driven risk assessment.
*Probability of false alarms is low, but not zero. Visual clarity varies by circumstance.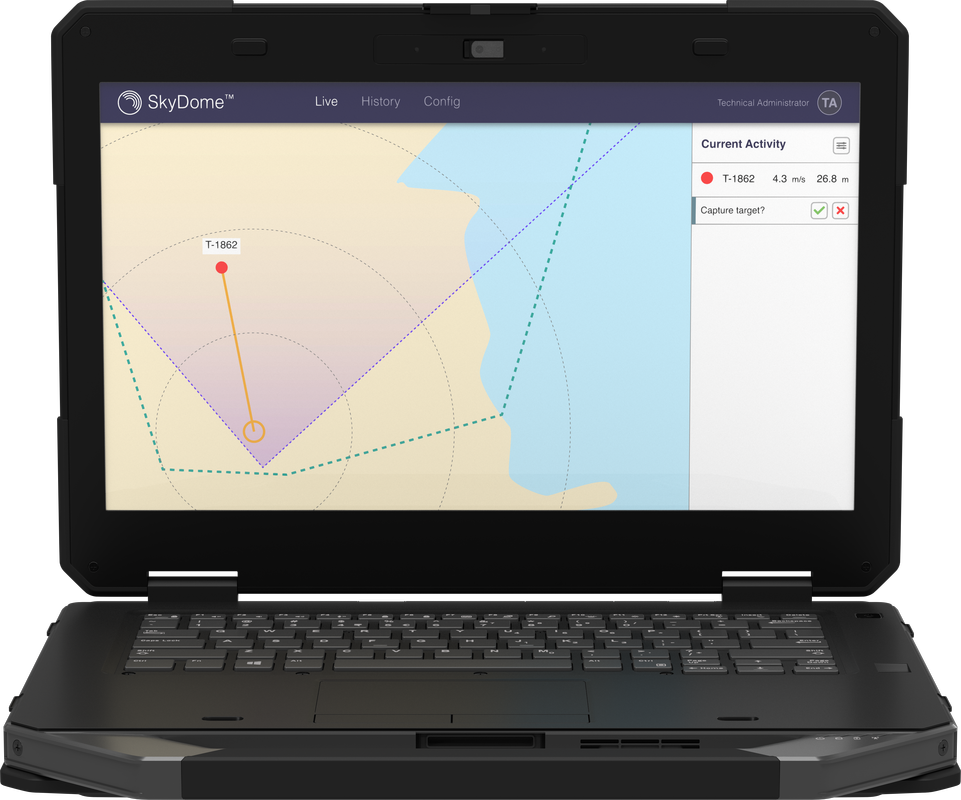 Unrivaled C-UAS with the World's Best Interceptor
With nearly 5,000 drone captures, the DroneHunter® F700 is a drone interceptor with real field success. Fully autonomous, radar-guided, and purpose-built for superior speed and agility, it stops rogue drones day and night without resulting in costly collateral damage.
The F700 is effective at stopping drones of almost any size, including the large group-2 and group-3 drones frequently used by rogue militants and terrorist groups. This is made possible by NetGuns™, modular attachments that fire rapidly expanding nets to ensnare targets.
Both quad-copters and fast, fixed-wing drones are equally susceptible to NetGun™ projectiles. Once the F700 is within range of the target, escape is highly improbable. Statistically, only 15% of target drones evade the first shot… and a second shot is usually ready to follow.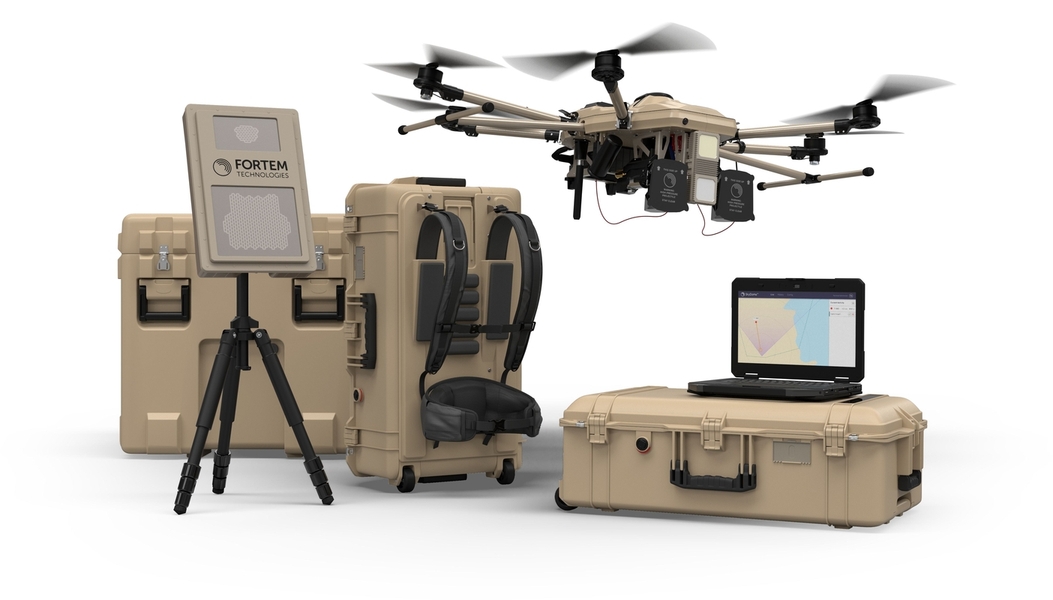 Protection For Any Airspace, Even the Ones that Move
The SkyDome System® scales to defend any zone, ranging from entire regions to small, mobile counter-drone operations. For experts on the move, we offer custom systems catered to your specific mission. Options include kits for both vehicular and man-portable applications, all of which are optimized for reliability, practicality, and rapid deployment.

Request More Information
Use this form to open dialogue with us. You'll be contacted by a real specialist, operating in the United States, who can discuss your specific needs at length. Please allow 5-7 business days for the right person to get in touch with you.