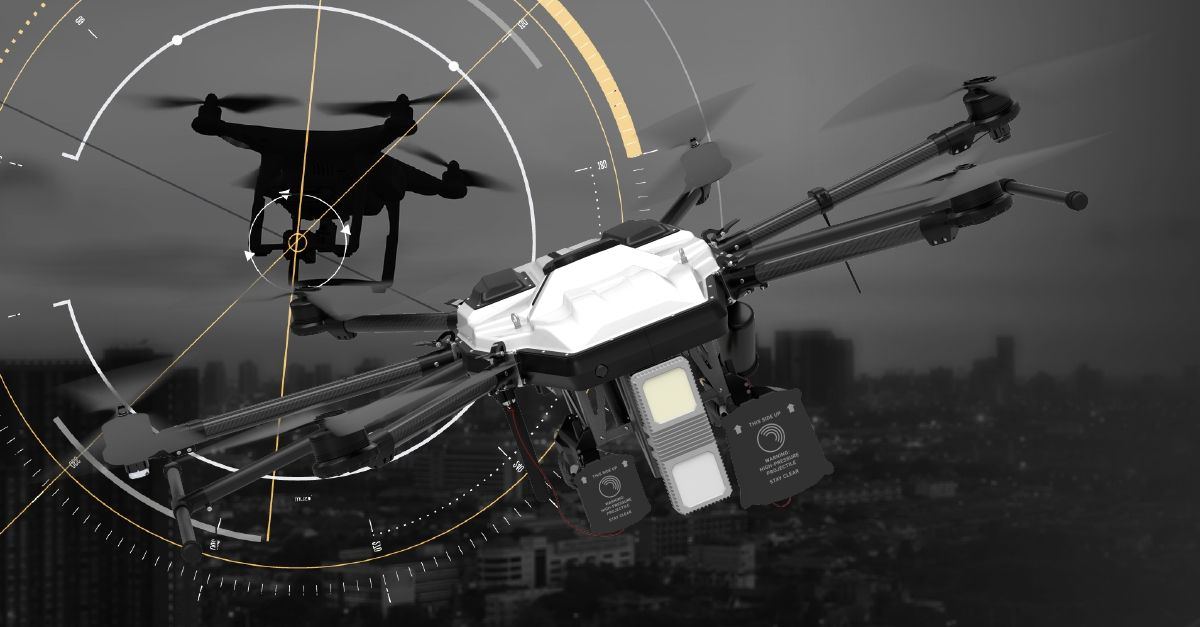 Victoria Nelson
Oct 11, 2022
3 mins
F700: Building the World's Best Drone Interceptor
Capable Of Defeating Group-1, Group-2, And Group-3 Drone Threats Like The Russian Orlan-10 And Iranian Shahed-136
Fortem Technologies, a leader in airspace awareness, security, and Defense, offers our customers a proven, end-to-end system of distributed radar and fused sensors, AI at the Edge, deep sensor integration, and autonomous drone capture — allowing us to secure and defend the world's airspace.
Our unrivaled C-UAS efficiently and effectively supports critical mission success — there is no better drone interceptor available on the market today that compares to our DroneHunter® F700.
In the Beginning
In 2016, Defense Advanced Research Projects Agency (DARPA) validated the need for radar-guided aircraft to address the threat that evolving drone technology brought to our skies. Business owners and Fortem Technologies co-founders Timothy Bean and Adam Robertson knew they had something special to share with the world and began collaborating with DARPA.
Already established as a radar company, Fortem Technologies was developing advanced radar solutions for short- and long-range, fixed, and mobile missions. In 2017, the Air Force Research Laboratories released a Small Business Innovation Research Program (SBIR) for counter-UAS technology. Bean and Robertson seized the opportunity to pitch what would eventually be known as the DroneHunter® F700 — a radar-guided platform designed to detect and defeat opposing UAVs.
Winning the direct-to-SBIR II contract, Fortem began development work on the F700 prototypes (done using a commercial, off-the-shelf drone) focused on improving the operating software (SW) for the most accurate radar, real-time guidance, and autopilot integration capabilities. Once the OS was stable, our engineers began working to improve upon the existing (animal) net guns seen on early C-UAVs, only capable of capturing stationary or slowly moving target drones.
In 2018, an early version of the DroneHunter® was featured on NBC News, showcasing the art of the possible, proving there was a new approach to radar-guided drone detection and autonomous capture with low collateral damage and a focus on public safety.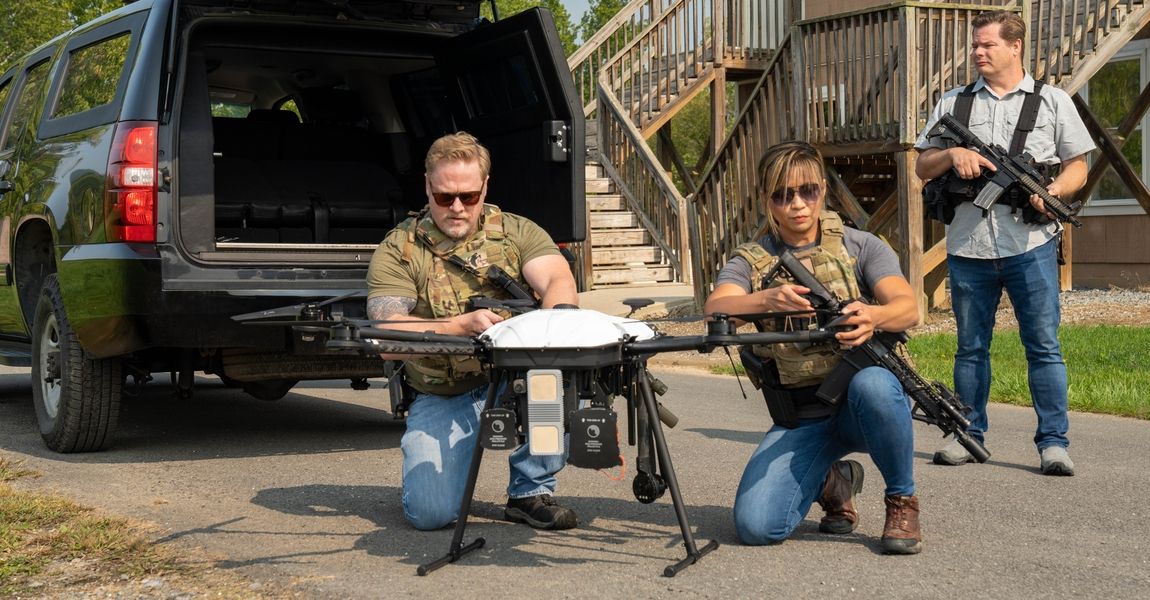 Above: C-UAS field operatives prepare to deploy a DroneHunter® F700 as part of a joint training exercise between Fortem Technologies and its partners.
Poised for Perfection
Today, backed by Toshiba, Boeing, and other investors, Fortem Technologies continues to provide layered airspace security solutions to stakeholders worldwide, from Defense, law enforcement, airports, and public venues like the upcoming FIFA World Cup in Qatar. The ability to defeat more than one drone per mission and its quick relaunch time of under 3 minutes can make it an extremely affordable and effective solution.
Advanced AI drives accurate and efficient victories against opposing drones that a human pilot couldn't possibly predict. Paired with our TrueView® R20 Radar, the F700 is one of the most intelligent and spatially aware interceptors capable of acting alone or cooperating with multiple units to protect large, restricted areas.
The F700 can seamlessly integrate with Fortem SkyDome® Manager C2 software and our ThreatAware™ Risk Assessment Engine for more accurate threat detection and assessment. Thanks to a modern, open API, the F700 can integrate with several of today's leading C2 systems, including FAAD C2.
Most recently, we announced upgrades for the DroneHunter® F700 platform, allowing for improved operational ease and the ability to defeat faster and more significant threats like the Russian Orlan-10 and Iranian Shahed-136 drones.
"At Fortem, we want to provide our customers with the best technology available as it continues to evolve," said Timothy Bean, President, and COO of Fortem Technologies. "We're always looking for ways to improve our already successful DroneHunter®, and this update is one we're proud of. We are always working to defeat dangerous drones of increasing speed, size, and number, and these upgrades are a huge step in that direction. We're thrilled to offer it to our existing and new customers."
Learn more about our DroneHunter® F700 and our end-to-end airspace awareness and C-UAS solution.